"Preparations & Precautions"
Chores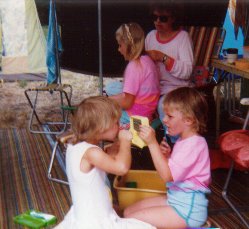 First Things First - 1988
A girl must look her best at all times ...
Vanessa & Miranda sharing a mirror whilst cleaning their teeth.
These two are only 16 months apart in age and were taken for twins.
They did everything together as twins do - I sometimes think they
"felt" like twins.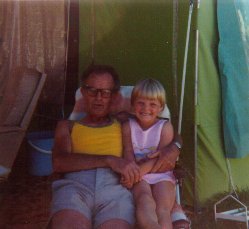 Great Mates - 1988
Vanessa and Poppa doing what they both do well ...
Sitting - Cuddling - Chatting.
Poppa always had interesting things to teach the girls,
like sitting quietly and watching ants busy at work.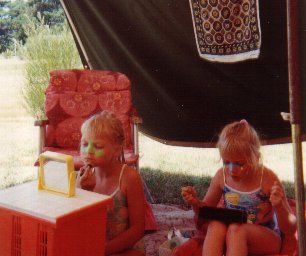 Protection - 1990
This was not only a daily chore - it was fun to do ...
At all times the girls understood that they must use protection
against the wonderful Australian Sun.
They approach it as a serious and very necessary part of
each day.



AT THE END OF A BUSY DAY!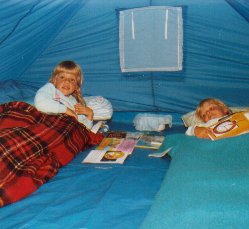 "Snug as a Bug in a Rug" - 1989
Miranda and Vanessa - first a quiet read in bed then lights out,
they each had a tent but preferred to sleep together in one
and keep their things in the other.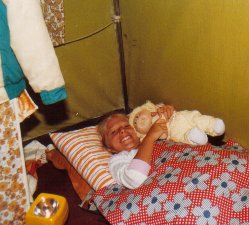 Ready For Sleep - 1989
Aldonna and her favourite doll settle down in a different
style tent where she can stand upright.
This is the tent that "ripped" it's roof - mentioned in a
*Peaceful Stay At Kelso" ... a story of today ...
... 12 years after this photo was taken *smiles*
Memories are so wonderful!

Kelso Guest Book




You are now visiting Chores ...
Chores ... Tasks ... Reflections ... A Red Face
Peaceful Kelso

Return to Kelso -Index
Return to Tangled Tales - Main Index

Laurie - July 2002